Paris gets smaller and smaller.
I was meeting my friend and
champagne supplier Terence Kenny for lunch at Grive, a new, cozy bistro in the 11th. Young Thomas Chisolm, the son of Terence's pal from his days at the French Tourism Bureau in New York was turning out creative, colorful menus.
Another surprise awaited me as Marlus, one of the partners rose to remind me that we had met over dinner at the Cafe Sud with my 'godfather' Albert Nahmias. And I had sung with the jazz trio that was
performing.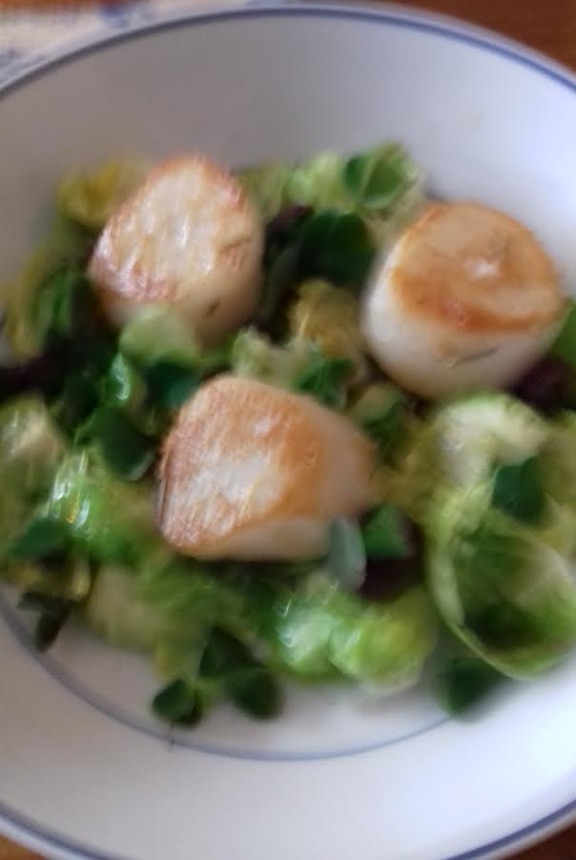 These were all good signs and I wasn't disappointed with the food.
I started with roasted coquilles Saint-Jacques on a bed of sautéed Brussels sprouts leaves. A dozen of these and a demi vin blanc would have made me very happy.
Terence opted for ceviche of octopus with tart green apples.
As main courses TK went for the poulet fermier and I,never missing an opportunity to eat pork had a perfectly cooked cochon, crunchy skin and soft interior.
We experimented with different bio red wines throughout and finished with an assortment of cheeses.
Grive
18 rue Breguet • 75011
01 43 55 53 93